About us

Our factory are the professional chair covers manufacturers in China, who have been producing chair covers, chair cover  sashes, organza overlays, table clothes, napkins, bar stool covers, pre tied bows, expand bands,high bar  covers, cocktail table covers for Northern American & European market for many years. All of our customers are satisfied with  our quality and most of them take us as their sole chair covers suppliers.
 
If you are doing business of banquet chair covers, party chair covers, wedding chair covers, chair covers hire, chair  covers rentals, chair covers wholesale or chair decoration, please contact us for the chair covers patterns or chair covers  styles.  

Materials can be Polyester satin, polyester matt satin/lamour, polyester satin stripe (polyester imperial stripe), organza, chameleon, taffeta, polyester solid oxford, poly/cotton damask, Polyester VISA, polyester damask, polyester twill, polyester Gabardine, spandex fabric/Lycra fabric,scuba fabric, crushed taffeta, pintuck taffeta .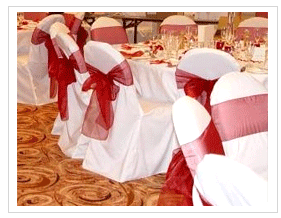 We have about 300 styles of chair covers for our customers to select. Of course, we can make chair covers according to your  samples.

For Table cloth, good quality to anti wrinkle, easy care. Size: 54" x 54", 54" x 72", 54" x 96", 52" x 114", 54" x 120", 64"  x 64", 72" x 72", 81" x 81", 85" x 85", 90" x 90", 90" x 44", 60" Round, 84" Round, 90" Round, 108" Round, 120" Round, 132" Round, Napkin 20"x20".    For organza, we have about 227 colours.
For Polyester VISA & Polyester Damask, we have about 53 colours.
For taffeta that can be made into chair covers and sashes, we have about 82 colours.
For polyester solid oxford, we have colours: white, black, Ivory, Burgundy, pink and chocolate.
For polyester satin stripe(polyester imperial stripe), we have 3 colours: white, Ivory and black;
For polyester twill, we have 3 colours: white, Ivory,black;
For polyester Gabardine, we have 4 colours: white, Ivory,black and Chocolate Brown;
For poly/cotton damask we have many colours and many designs.

For scuba fabric, we have white,Ivory, black, Cream, Chocolate Brown and Burgundy.
For polyester satin, we have White, Ivory, Gold, Pink, Peach,Deep Peach, Red, Burgundy, Lilac, purple, Plum, Hunter, Teal, Royal, Navy, Silver, Black, Apple Green, Nude, Aqua, Sage, chocolate Brown, Antique Gold, Fuschia, Champagne, Orange,Yellow,  Victorian Lilac, Claret, Clover, Jade, Lime Green, Platinum, Wine,Buttercup and Coral;
For spandex fabric, we have white, ivory, Gold, Black, Antique Gold, Red,Hunter, Neon Pink, Neon Orange, Fuscia, Orange, Neon  Green, Neon Yellow, Silver, Turquoise, Royal Blue, Purple, Yellow, Burgundy and Chocolate Brown at present.
For polyester Lamour/Matt Satin, we have White, Ivory, Gold, Pink, Peach,Deep Peach, Red, Burgundy, Lilac, purple, Plum,  Hunter, Teal, Royal, Navy, Silver, Black, Apple Green, Nude, Aqua, Sage, chocolate Brown, Antique Gold, Fuschia, Champagne,  Orange,Yellow, Victorian Lilac, Claret, Clover, Jade, Lime Green, Platinum, Wine,Buttercup and Coral; 

At present, we can supply:
1. polyester Visa chair covers, polyester Satin chair covers, polyester plain chair covers,polyester solid chair cover, scuba chair covers, polyester twill chair covers, spandex chair covers, Lycra chair covers, polyester damask chair covers, poly/cotton damask chair covers, polyester satin stripe chair covers, polyester imperial stripe chair covers, polyester Lamour chair covers, polyester matt satin chair covers, taffeta chair covers, polyester Gabardine chair covers,crushed taffeta chair covers, pintuck taffeta chair covers;
2. organza sashes, satin sashes, spandex bands, expands bands, chair cover sashes, pre tied bows, satin ties,chair ties;
3. organza overlays, embroidery organza overlays, organza overlays with satin band, pintuck chameleon overlays with satin border, pintuck taffeta overlay,satin table topper, crushed table topper;
4. polyester damask table cloth, table skirting,
5. accent bands, ballroom chair covers,barrel chair covers, black chair covers,chair bows,